Oilheat More Efficient than Ever
---
Did you know?
EFFICIENT
New Oilheat systems now boast efficiency ratings of 95 percent, providing more warmth with less fuel than ever before. 
Recent studies funded by NYSERDA show fuel savings as high as 48.3 percent when replacing an outdated boiler with a new, high-efficiency boiler.
Oilheat equipment is constantly evolving to incorporate advancements in efficiency and comfort. Many new boilers are designed to incorporate weather-responsive controls that greatly reduce fuel usage during mildly cold weather and provide a more even heat with fewer temperature swings.
Other important advancements include two-stage burners that conserve fuel and electronically commutated furnace blowers that save electricity, provide smoother operation and work well with high-efficiency central air conditioning systems.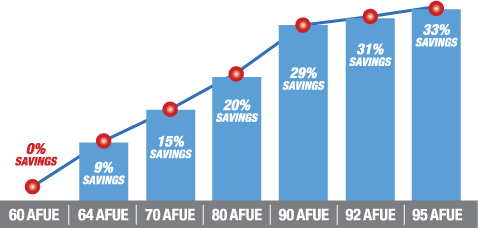 - See more at: http://oilheatamerica.com/oilheat/efficient/#sthash.HOSMqDsR.dpuf
Learn more at: http://oilheatamerica.com/oilheat/efficient/